здоровенная немертина 30 м длиной.
http://en.wikipedia.org/wiki/Nemertea
Nemerteans range in size from 5 mm to over 30 metres long in the case of the European Lineus longissimus. There are also reports of specimens up to 50 m or 60 m long, which would make it the longest animal in the world; the longest vertebrate on record is a female blue whale, 29.9 m long.

http://species-identification.org/species.php?species_group=macrobenthos_nemertina&id=59
This is the longest nemertean species known. Individuals of 5-10 m length are not uncommon.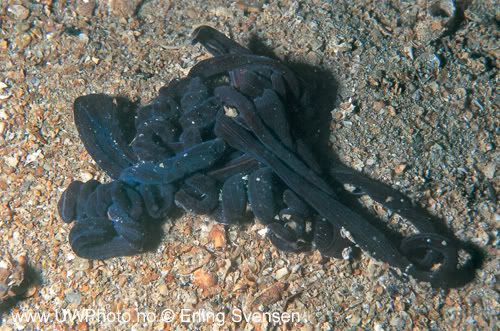 http://weblogs.madrimasd.org/ciencia_marina/archive/2007/07/31/70912.aspx

примерно
http://cameronmccormick.blogspot.com/2007_06_01_archive.html

http://www.flickr.com/photos/gwylan/2169551899/